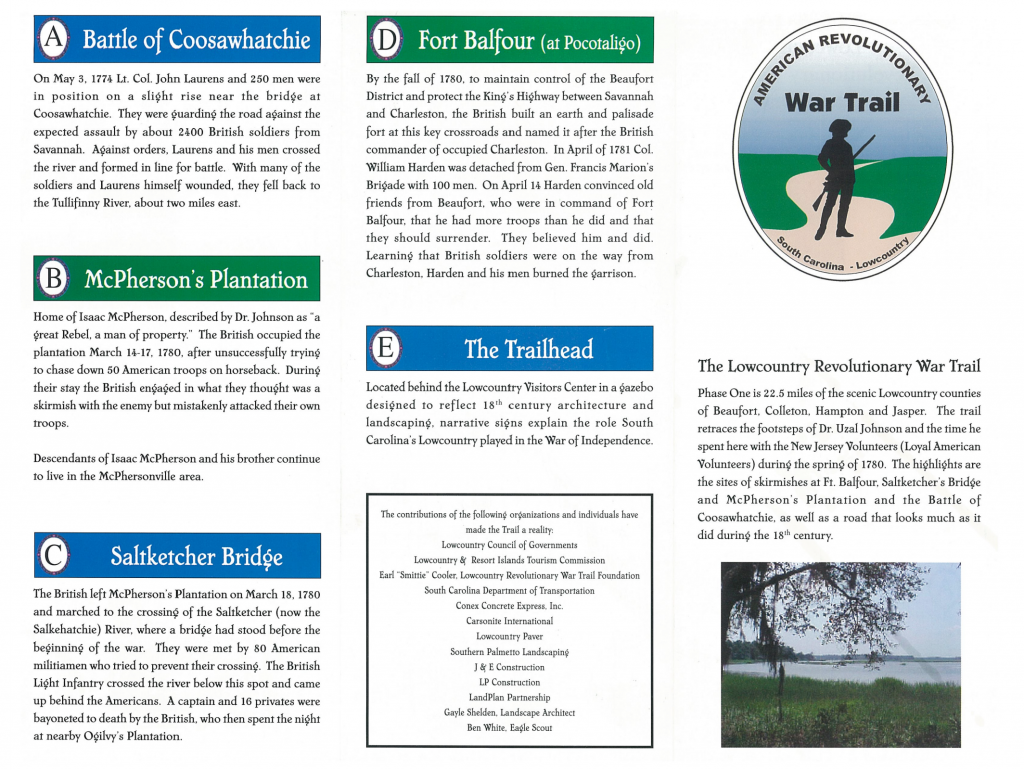 Lowcountry Revolutionary War Trail
The Lowcountry and its citizens played an important role during the final years of the struggle for American independence.   General Francis Marion, known as the Swamp Fox and recently immortalized on screen as The Patriot, fought in this area.  But there were many less famous residents who also did their duty.
Throughout the four counties that make up the Lowcountry there are a variety of Revolution-related locations–skirmish sites in Colleton County, British army bivouacs in Jasper County, graveyards in Hampton County, forts in Beaufort County and key river crossings in all four.  Connecting them are modern highways and roads that follow the routes used by both American and British troops between 1799 and 1782.
Phase One, which is now being developed,  is  22.5 scenic miles retracing the footsteps of Dr. Uzal Johnson, a Loyalist who provided medical care to British troops here during the spring of 1780. Excerpts from his diary are in the "History" section.
The highlights of Phase One are the sites of skirmishes at Ft. Balfour, Saltketcher's Bridge and McPherson's Plantation and the Battle of Coosawhatchie, as well as a road that looks much as it did during the 18th century.